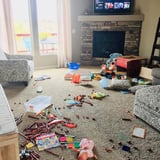 Today, we just let it all go.

The to-do list.
The clean home.
The laundry.
The pumpkin patches and apple orchards….

Posted by Messy Footprints on Sunday, September 29, 2019
Kaleigh Christensen, a stay-at-home mom and blogger, recently let parents in on a little secret: you don't have to do it all every single day. In a reassuring Facebook post, she explained how important it is to just be, rather than constantly worrying about household chores and running errands.
"Today, we just let it all go. The to-do list. The clean home. The laundry. The pumpkin patches and apple orchards. The big breakfast. The showers, the makeup, the clean hair. We let it all go," she wrote. "We spent our day with zero expectations."
"We napped together on the couch while watching too much TV. We skipped cooking breakfast, and we went out for breakfast while wearing pajamas, skipped showers, and [I wore] zero makeup," said Kaleigh. "We didn't clean up after ourselves. We opened the windows and listened to the rain fall. We didn't get stressed out over the upcoming week. We didn't worry about schedules. We let it all go."
Rather than focusing on getting mundane tasks done, she took the day to appreciate what she had, even if her living room was in need of a serious cleaning. "Instead, we loved hard. We loved through the messy, through the imperfections. We listened to our bodies, and we RESTED. We really rested. And because of our messy day, I'm going into the week feeling free," she said. "Feeling a little more like myself. I don't feel stressed. My list of to-dos will always be there waiting. There will always be responsibilities and never-ending lists. But my family? The opportunity to love them in the present time? That won't always be here."
Her advice? Parents shouldn't feel bad if they need a day to just do nothing. "Do it for a day. Let it all go, and look at your family," she said. "Really look at them and rest in their unconditional, imperfect, messy love. No one ever said you had to do it all. So just let it go. Rest and love."