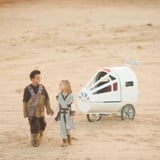 As if the Aug. 29 opening of Star Wars: Galaxy's Edge at Walt Disney World wasn't exciting enough, one stroller rental company is about to make the land and its theme even more enticing with its new spaceship strollers. Fantasy Strollers, which currently rents out Cinderella's Carriage strollers to parents visiting Disney World, is adding the spaceship stroller to its lineup come August.
The strollers are available for use in Magic Kingdom and Hollywood Studios, where they can be picked up and dropped off at designated locations in the park and at the nearby resorts. As far as rental fees go, the spaceship stroller starts at $100 for the day (from 9, 10, or 11 a.m. to 5 p.m.), with a $20 per hour charge for each hour after 5 p.m. Or, you could purchase the Fireworks Extension Package for the day, which gives you the rental until 10 p.m. for an extra $50 (compared to $100 when calculated per hour).
The strollers' features include ceiling fans, interior and exterior lights, phone chargers, cup holders, ample storage space, and of course, authentic touches such as Millennium Falcon-style doors and two pilot steering wheels. And after a long day enjoying Disney, there's a best feature of these spaceship strollers that parents will enjoy the most – it transforms into a bed so that your sleepy kiddos can catch a few Zs wherever you are in the park. Additionally, each stroller measures 20 inches wide by 50 inches long, which is within Disney's stroller size limit.
See photos of the Millennium Falcon-esque stroller below, and book one for your upcoming vacation (Fantasy Strollers recommends booking four to eight months in advance, as there are limited quantities of this new design)!