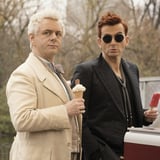 Amazon's epic adaptation of Neil Gaiman and Terry Pratchett's novel, Good Omens, is one of the year's most highly anticipated TV events. The book, which came out in 1990, is one of the most beloved fantasy novels of its time, and with Gaiman acting as showrunner for the series (at the late Terry Pratchett's behest), it seems stars were falling over themselves to accept even the smallest roles in order to be part of such an epic production.
The biggest job, however, was casting the leads: angel Aziraphale and demon Crowley. Luckily, Michael Sheen didn't require much persuading. During a talk at London's Royal Festival Hall ahead of the show's release, he revealed himself to be a huge fan of the book, having read it at an impressionable age. "I was 18 or 19, I'm sure as many people can attest, you read a book then, [and] it can really change your life."
Sheen is a self-confessed comic book and fantasy fan. During the press tours for the final two Twilight movies, he spoke in defense of the fantasy genre, citing Neil Gaiman as one of the genre's leading lights. This led to Gaiman sending him a package of books as a thank you, marking the beginning of a long friendship. Gaiman originally had Sheen in mind to play Crowley, and in the early days, Sheen also saw himself as the lazy, laid-back demon. However, once the script was developed, both of them quickly realized that he was far better suited to play the uptight perfectionist Aziraphale. If you've seen the show, no doubt you'll agree that he does an incredible job of bringing him to life. But with Sheen switching sides, the hunt for the perfect Crowley was on.
David Tennant was clearly too busy watching Doctor Who to have picked up any of Gaiman's works in the past, but that didn't stop him from recognizing immediately what a great role it was and what a huge opportunity this was. "I read the script, and I thought 'sure, yes, of course, have they sent this to the wrong email?'" he joked during the talk.
Then came the fun of casting the hundreds of cameos, guest stars, and smaller players that made up the ensemble cast. Gaiman and Pratchett's reputation proceeded them, and it sounds like most people were willing to do anything to be a part of the production. Nick Offerman stepped in with only three days notice, and Gaiman recalled making the offer, which would require the actor to drop everything to fly to South Africa to film a part that consists of only a few lines. "There wasn't a perceptible pause before the reply came back, 'I am willing to buy my own ticket.'" Offerman also said, "I would have come twice as far for half the lines to be in this."
Jon Hamm, another fan of the genre, had read Good Omens in college and considered it one of his favorite books. When asked to come on board as Gabriel, his email to Gaiman read simply, "Yes. Hamm."
For the narrator (God), Gaiman knew he wanted a hugely famous American actress and considered the likes of Whoopi Goldberg ("But she's played God before") before an opportunity pretty much landed in his lap. He explained that Frances McDormand reached out, out of the blue, to ask Gaiman about the possibility of renting his house on the Isle of Skye. He saw his chance. She got the house, but he also asked, "Would you like to be God?"
McDormand's response only confirmed that she was the right person for the job. She told Gaiman, "It would confirm things my family has long suspected."