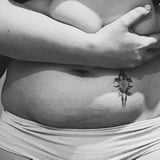 Laura Mazza had a different body before having kids. The mom says her prebaby body "was toned, it had muscles, there were no stretch marks on my belly, none on my boobs, no gut from muscle separation." However, upon announcing to her husband one day that her body was "not the one he fell in love with," his response helped her accept her postpartum body and all of the things it has accomplished in bringing their children into the world.
In an open post to her Facebook page, Mum on the Run, Mazza shared with readers more information about the body her husband "fell in love with."
The body he fell in love with fit into tight jeans, could walk into a shop and grab any size and walk out, knowing it fit. This body now couldn't shop at those stores, and mostly wears leggings. His body stayed the same, but mine changed in every way. It isn't fair . . .
She continues, sharing the emotions she had as she opened up to her husband. "I stood in front of him, exhausted and broken, the tears welled in my eyes," she wrote. "'This isn't the body you fell in love with.' Then he said, 'You're right. It isn't the body I fell in love with.'"
Although his statement sounds like a jab at first glance, Mazza's husband continued, sharing words with his wife that are all kinds of awesome; words that all women should get to hear. "'Instead it's a body that grew our children, it fed our children, it comforted our children, it made life,'" he said. Adding: "'Your body is the one I fall in love with every day. I didn't know what love was until I saw this body and found out all it could do, so thank you.'"
Mazza's hope is that her final thoughts after hearing her husband's encouraging words will help other women feel good about their bodies that grew, delivered, and nourished their children. "Do not be ashamed of what you have, or what your mum body looks like, there's plenty of time to give up cake in the future; for now, enjoy the moments you have, and enjoy the fact that you have made something that is worth every stretch mark and every dimple," she wrote. "If you needed a reminder, this is it, this body you have now, it's worth every bit of love and more."