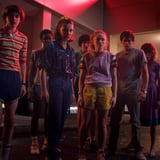 It's the summer of 1985 and the kids of Hawkins, IN, are more grown up than we've ever seen them – but they've still got unfinished business to handle. The long-awaited trailer for the third season of Stranger Things has arrived, and it looks like we're going from the Upside Down to the pinnacle of adolescence: the local mall. The new footage gives us our first real look at the Starcourt Mall since the first teaser trailer, and the gang is all over it. But from what we see in the trailer, it looks like not everyone in the town is excited about it and some are protesting its opening.
Not only do we get a peek at what Mike, Will, Eleven, and the rest of the gang have been up to since we last saw them escaping the Upside Down, but we also catch sight of our favorite parents, Hopper and Joyce, Nancy and Charlie at The Hawkins Post (still trying to get the story out there?), Steve and his new coworker Robin, and a seriously freaky new monster. Trouble is definitely not over by a long shot, and it won't just be the monsters this time; the gang is also dealing with some friction amongst themselves.
"We're not kids anymore," says Mike in the new eight-episode season that debuts on July 4. "I mean, what did you think? We were just going to sit in my basement all day?"
Oh the teen drama of it all. Check out the trailer above!