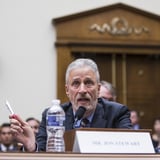 Former Daily Show host Jon Stewart took members of Congress to task on Tuesday over health care for 9/11 first responders. Many members of the House Judiciary Subcommittee on the Constitution, Civil Rights, and Civil Liberties were not present for the bill hearing – a "shameful" failure, according to Stewart.
"As I sit here today, I can't help but think what an incredible metaphor this room is for the entire process that getting health care and benefits for 9/11 first responders has come to. Behind me, a filled room of 9/11 first responders, and in front of me, a nearly empty Congress. Sick and dying, they brought themselves down here to speak to no one," Stewart said, while testifying for the September 11th Victim Compensation Fund. In February, the fund's special master revealed payouts would be cut by 50 to 70 percent to ensure all claimants are paid before the fund expires in 2020. Stewart is fighting for permanent funding of the program.
"More of these men and women are going to get sick and they're going to die, and I'm awfully tired of hearing this is a 'New York issue.'"
"It's an embarrassment to the country and it is a stain on this institution. And you should be ashamed of yourselves for those that aren't here. But you won't be, because accountability doesn't appear to be something that occurs in this chamber," he continued.
Stewart is a staunch advocate for the men and women who responded to the September 11, 2001 attacks on the World Trade Center in NYC. He delivered his passionate and emotional speech to about half of the 14-member subcommittee, reminding the lawmakers that the responders who showed up for the hearing "are not here for themselves." They attended on behalf of their colleagues who battle health complications, like cancer.
"There is not a person here, there is not an empty chair on that stage that didn't tweet out 'Never forget the heroes of 9/11,'" Stewart said, addressing the lawmakers. "Your indifference cost these men and women their most important commodity – time! It's the one thing they're running out of."
"More of these men and women are going to get sick and they're going to die, and I'm awfully tired of hearing this is a 'New York issue,'" he continued. "Al-Qaeda didn't shout 'Death to Tribeca.' They attacked America."