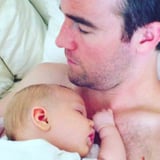 As soon as people start welcoming kids into the world, taking those walks down memory lane become more and more exciting. Recently, James Van Der Beek got pretty candid about what sifting through photos can be like when you have five little ones running around, and we can't help but chuckle.
"Came across this pic today. If I'm being completely honest . . . I have no idea which kid this is," he joked in the caption. "But reasonably sure it's mine."
Ha! What can we say? The more, the merrier!