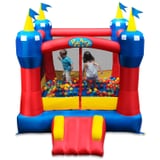 Need something to completely tire out your kids this Summer? We have just the thing, and you won't even need to leave your home. Remember how much fun you had back in the day jumping around in bounce houses at birthday parties? Well, now your family can own one, granted you have the space to set it up.
The Blast Zone Magic Castle Inflatable Bouncer ($250) comes with everything: the bounce house, carrying case, blower, stakes, and even patches in case you get a hole. And it inflates in just seconds, so you can stand back and let it unfurl on its own. It might seem like a hefty price tag, but the following Amazon customer reviews might convince you otherwise.
"I bought this for my 9 year old daughters birthday party and it was a huge hit!! I tried sticking to the rule no more than 4 kids inside of it of course they didn't listen and we had about 5-6 at times and it held up perfectly. It was actually cheaper to buy this instead of renting one."
And this isn't a single-season product either. People set it up inside the house during the cold-weather months.
"I bought this bouncy castle six years ago and it is still going strong. Our kids are big now, but still use it once in a while and the castle can put up with their abuse. The greatest use we've has is inside the house during the winter (watch out for the ceiling fan!!!) . . . It's been terrific."