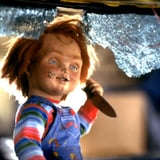 Everyone's favorite homicidal doll is ready for a play date! Thirty years after the release of Tom Holland's Child's Play in 1988, Metro-Goldwyn-Mayer has fast-tracked a remake. According to The Hollywood Reporter, MGM has tapped Polaroid filmmaker Lars Klevberg to direct the horror reboot with video game writer Tyler Burton Smith on board to handle the script.
Child's Play was the first of a seven-movie franchise that told the story of Chucky, a toy doll possessed by the soul of a serial killer. If you've seen the film, you no doubt remember the chills that shot down your spine when he first uttered his iconic phrase, "Hi, I'm Chucky. Wanna play?" Chucky then goes on a murderous rampage in an attempt to kill a single mom and her son so he can jump into the son's body before he becomes trapped inside the doll permanently. Obviously he fails, and the movies only get bloodier and more ridiculous with each entry. Though, honestly, the addition of Chucky's wife and kids is definitely an interesting twist to your regular killer doll series.
The new movie will be a true reboot with Star Wars actor Mark Hamill as the voice of Chucky and Parks and Rec's Aubrey Plaza starring as single mom Karen Barclay with Gabriel Bateman as her son, Andy. Atlanta's Brian Tyree Henry will also be appearing as Detective Norris. To celebrate the updated edition of the horror flick, which began filming in Vancouver last Fall, Plaza shared the first poster back in November. Warning: it's just as creepy as expected.
If you've seen the original, then you'll no doubt recognize Chucky's ominous box. However, if you look closely, there are a few changes. For instance, the toy brand seems to have been changed from "Good Guys" to "Buddi." Also, it looks like there's a wi-fi symbol above the "i" in Buddi, which leads us to think the internet will play a part in this version of Chucky's possession (on the side of the box, you can even see instructions about connecting Chucky to a tablet, remote, or laptop).
It producers David Katzenberg and Seth Grahame-Smith will also work on the project, which is scheduled to arrive in theaters on June 21, 2019, which just so happens to be the same release date as another toy-related film. Because of course.