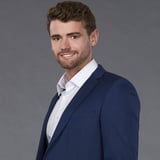 The Bachelorette had one of its first feuds of the season on Monday night. As the men played rugby for a group date, things got pretty heated between Luke P. and Luke S. on the field. While the encounter wasn't captured on camera, many of the guys said that Luke P. "body-slammed" Luke S. on the ground after getting super competitive during the game. Even though Luke P. apologized, saying it was only "self-defense," Luke S. clearly wasn't having it.
As the evening progressed, Hannah pulled Luke P. aside to discuss what happened. During their conversation, Luke P. claimed that Luke S. tried to swing at him, before he threw him on the ground as self-defense. In addition to talking about what happened on the field, he also questioned Luke S.'s motives in the competition, adding that he is constantly talking about his "brand" and tequila business, but not about Hannah.
Clearly upset by what Luke P. told her, Hannah decided to pull Luke S. aside to get his side of the story. Naturally, Luke S. denied everything Luke P. said, but he also revealed that he isn't the only guy in the house Luke P. has problems with.
What Did Luke S. Tell Luke P.?
After chatting with Hannah, Luke S. decided to get things straight with Luke P. about his true motives in the competition. "I'm here for Hannah and don't you ever f*cking forget it," he said, before letting Luke P. know that he never wanted to see him again. Well, that's gonna be kind of hard seeing that they live in the same house, but I digress.
During the final rose ceremony, Hannah continued to question both of the men's motives. After Luke S. confronted Luke P. about telling Hannah he was truly "in it for the right reasons," it seemed like Luke P. was finally going to wipe the slate clean. And that's when things got really interesting. Instead, Luke P. did a complete 180 and claimed that Luke S. told him to "put in a good word" with Hannah. Are you tired yet? Because I am!
After Luke S. told Luke P. off (yet again), Hannah pulled them both aside to get to the bottom of this, once and for all. Just when it finally seemed like we were going to get some resolution – surprise! – that's the end of the episode.
Was There a Rose Ceremony?
Instead of showing a rose ceremony, the episode ends on a huge cliffhanger with Luke P. and Luke S. getting ready to talk with Hannah. Will one of the men leave the competition? Or will they hug it out and move on? I personally hope Hannah just puts them in a time out and does the rose ceremony without them.